Elevate Your Dynamic Lifestyle with Our Women's Track suits
4 min read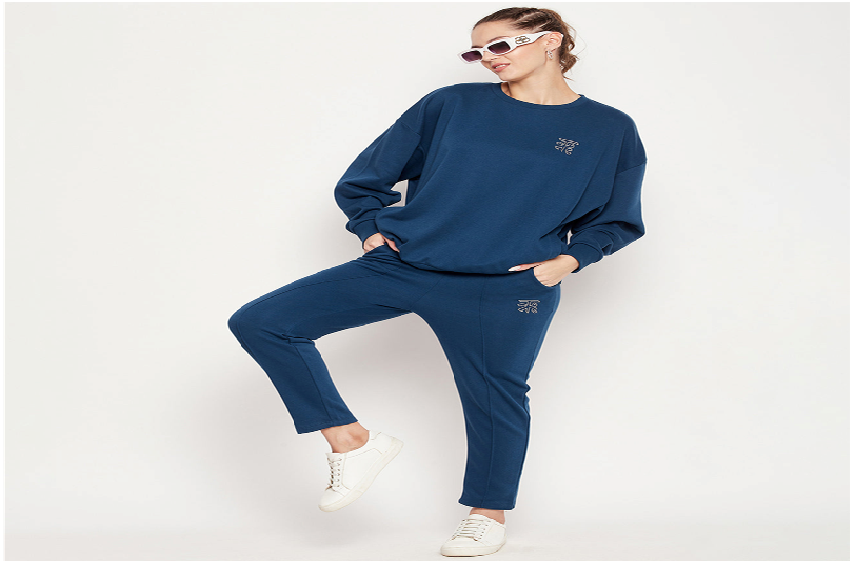 Tracksuit: the most popular wardrobe essential of today's time! Undeniably, tracksuits are the most comfortable and fashionable outfit that lifts up your dynamic lifestyle. It is one style that every person can follow as they are not expensive compared to other clothing items. Whenever you buy tracksuits, make sure to look for smooth seams that don't scrape strategic vents and have a streamlined fit.
Whether you are hitting the gym, spending time at home, or going shopping, tracksuits are such functional outfits that you can opt for! Tracksuits look good during the daytime and make you look chic without putting your thoughts into the outfit. Just pair it up with perfect shoes and discover the trend to be appealing for several reasons. At Edrio, you can find the most relaxed and modish style tracksuits.
Now, let us see what factors make tracksuits a hit amongst women. This comfortable and fashion-forward clothing brings forth the idea of being versatile. But how? Read below:
Comfort Level
Tracksuits are the most comfortable, lightweight, and breathable outfit. Women love to dress themselves in this as it makes a change from smart and restrictive clothes that they often wear for work. It makes them easy for them to stretch themselves, run, and not have to be concerned about buttons and zips. Moreover, it adds up to you to perform better. The mesh panels, pockets to keep stuff, and material for every temperature make it a smack amongst women.
A special level of comfort in this blue oversized all-season tracksuit from Edrio.
Color Combination
Colors that compliment your personality are available at Edrio. You need to mix and match your favorite tees and shoes to have a perfect look.  According to your choice and personality, you can choose your favorite color tracksuit. Sticking with classic black is what every woman wants. Isn't it? Pink is also an amazing choice for young girls to express their personalities. Team up the pink tracksuit with a black or white crop top. Go daringly in this pink tracksuit and tone down yourself with a black crop top inside. Whether you wish to tone down and maintain your best-ever look, then such color tracksuits are necessary to fasten to your goals.

Look your best in this pink colored tracksuit from Edrio.
Quality
Edrio never compromises on the quality of clothing. The fabric of tracksuits does not crease and this is the reason you may not need to iron them after washing. Like other casual clothes, they do not lose their shape. For women, tracksuits are ideal as they can often wear them for their workout session as it maintains their optimum body temperature while exercising.  Full-length sleeves, fitted, and high neck collars tracksuits give your body better shape, stamina, and strength.
Contemporary minimalistic look in this beige slim-fit tracksuit from Edrio.
Sensibly Designed
When you are hunting for a perfect tracksuit for women, you ought to decide for which activity you need it. Some practical detailing such as water-repellent coatings and ventilated fabrics must be taken care of. For full coverage and comfortable fit, opt for track pants with high waistlines. Make sure that the bottoms withstand all weather conditions.
Avail all-day versatility in this purple compact cotton tracksuit from Edrio.
Do you need any more reasons why women's tracksuits are the most well-liked fashion style at this moment? No! Everyone is wearing tracksuits as their style is relaxed, easy, and natural. However, trending prints, colors, and patterns of tracksuits will enable you to experiment with your appearance, thereby allowing you to create different varieties for different outings.
How to Style up the Game of Ladies Tracksuits?
It's time to modernize your athletic look with Edrio's women's tracksuits. Whether you wish to keep things sober or flaunt a little extra with grace is all up to you. The selection of tracksuits features a comprehensive range of designs, fits, and colors.  No wonder, tracksuits promise to match your moods, personalities, and liking.
But do you know how to style these tracksuits and look fashionable? Let us tell you how!
       

You can pair

track pants for women

with a hoodie along with your favorite sneaker. This will be a fantastic way to show off your athletic side.

       

Likewise, track pants can be teamed up with a jacket or a t-shirt, depending on the temperature. A slip-on shoe is an ideal accessory to give a complete look to your personality.

       

For summer days, tank tops can be paired with track pants.

       

For a matchless appearance mix-match the tank tops with track pants.
Conclusion
Now, it is evident that there are lots of things to consider while opting for a perfect tracksuit for women. You just need to push yourself to a certain limit and relax in style. Starting from designer tracksuits, and zip-up hoodies, to tracksuit bottoms, you get an option to mix-match the female tracksuit range. However you fashion, you may keep your look elegant and classy even in tracksuits.